News
Here will be the latest news
Catalog Parts
CSK261897 TOTAL SOURCE SNAP RING $0.13 91305-5A2-A01 HONDA SEALING RING1 $0.17 W706596-S300 MOTORCRAFT FASTENING ELEMENT $1.23 2219392 CTP GASKET $0.18 RE02 SONNAX SNAP RINGS $0.12 7C5273 CATERPILLAR SHIM $0.32 CH012V SONNAX SEALING RING $0.18 PVA20-A-100-AB...
Who Are GTO Limited?
Malcolm Pattinson – Chairman Malcolm has almost 40 years in the oil and gas industry and most of it at Senior Management positions in companies operating in the UK and Netherlands sectors. As Vice President of...
News
Here will be the latest news
Who Are GTO Limited?
Malcolm Pattinson – Chairman

Malcolm has almost 40 years in the oil and gas industry and most of it at Senior Management positions in companies operating in the UK and Netherlands sectors. As Vice President of Exploration for Hamilton Oil and Gas he was instrumental in the exploration, appraisal and development, as operator, of the Esmond, Forbes, Gordon, Ravenspurn North and Johnson Gas Fields in the UK Southern North Sea and for Exploration and appraisal of the K4/K5, F/16 and G/17 blocks in the offshore Netherlands. Whilst at Hamilton he was also responsible for the success in Bruce, Keith, Innes, Duncan and Liverpool Bay operations. In 1990 Malcolm was awarded UK Explorer of the Year by his peers in the industry. Malcolm in recent years has been active in a broad international arena working in senior roles for Ranger/CNR, Tullow Oil and Falcon Oil and Gas in Europe and Africa. Malcolm is a proven deliverer of exploration and development success.
Mike Jones – Managing Director

Mike has worked for over 30 years in the petroleum industry. As a geologist he worked extensively in the UK and Netherlands sectors of the North Sea and was instrumental in the exploration and appraisal success of the Ravenspurn North, Johnson and K4/K5 gas fields, and for the exploration of numerous permits across the UK and Netherlands sectors for Hamilton Oil and Gas. More recently he was Exploration Manager for BHP Billiton and had responsibility for the exploration and appraisal success of a major oil field in the Berkine Basin, Algeria. Recent success has been with GTO in the UK licence rounds, offshore Netherlands, Hungary and France. Mike also advises Vitol E&P on global exploration activity.
Malcolm Groom – Commercial Director

Malcolm is a qualified solicitor who has specialised in energy law for nearly 30 years, and since 2003 has been practising as an independent international legal adviser specialising in oil, gas and liquefied natural gas (LNG). Malcolm has worked in over 30 countries both on commercial deals and governmental/regulatory structures. As well as having been a partner at Warrens he headed the energy groups at both Denton Hall and Norton Rose. He has held directorships at various companies including Consort Resources Limited and has advised a wide range of international companies including Shell, BHP Billiton, Lasmo, Monument and Tractebel. He is also consultant to a number of foreign governments on legal matters concerning the oil industry.
Graham Williams – Technical Director

Graham is Professor of Structural Geology at Keele University, UK. He has worked as a consultant to the oil industry in North and South America, Africa, the Middle East and widely in Europe. He has published extensively on structural geology aspects of the petroleum industry and has directed numerous internationally sponsored research projects. Graham's expertise is in structural geology, seismic interpretation, GIS, and basin analysis. He has a Batchelor's degree from Leicester University, a PhD from Cardiff University, is a Fellow of the Geological Society of London and is a Chartered Geologist.
Richard Harvey – Company Secretary

Richard is an experienced energy lawyer with over 30 years experience in the oil industry as a legal counsel, in exploration, development and production, initially with the British National Oil Corporation, then with Hamilton Brothers Oil & Gas Limited, and subsequently with BHP Billiton Petroleum Limited companies. He holds degrees in chemical and biological engineering and is a chartered engineer.
Andrew Glendenning – Finance Manager

Andrew is a chartered accountant, with significant experience in the oil and gas industry, having set up and run the treasury department for Hamilton Brothers Oil and Gas Limited, where he worked from 1981 until 1991 when it was taken over by BHP Petroleum Limited (BHP). He was appointed director at that company in 1999 and was responsible for BHP's London treasury operations.
Welcome to GTO
GTO Limited is an international oil and gas exploration and production company, primarily focused on the acquisition, exploration and development of energy reserves in the North Sea sectors of the United Kingdom and Netherlands.
GTO has assembled a core portfolio of licence blocks in the Netherlands sector of the North Sea, that has a combination of proven gas resources (Blocks M10/M11) and high graded exploration potential (D9, E10, E14, E15c & E18b) with Tullow Oil as operator. GTO is carried through the exploration expenditure in both these licence areas.
In October 2010, GTO also acquired an interest in its first onshore acreage – Hungary Igal II, to explore for oil in an extended proven Paleogene play in the Pannonian Basin.
More recently GTO has been awarded three licences in the UK 26th Licence Round. These licences comprise Blocks 15/11 & 16b close to the Piper Field, Block 29/20 adjacent to the Auk Field and Blocks 28/24,25, 30a & 29/21, 26a in the south west margin of the Central North Sea basin.
GTO has also filed an application offshore France, and an award is pending for the Marge du Finistere licence.
Our company has been supplying John Deere parts for 30 years.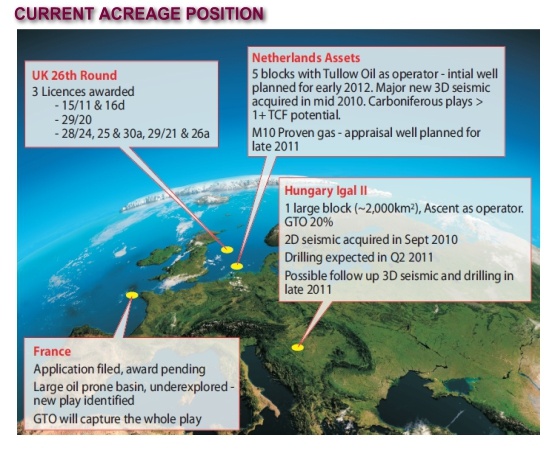 The GTO strategy has been Two Fold:
Acquire acreage close to existing infrastructure and with proven plays and potential – modest size and technical challenges – Netherlands M10/M11, UK 29/20 & 15/11 7 16b, and Hungary Igal II;
Large areas with 'blue sky' exploration potential with large upside and exploration running room – Netherlands D + E blocks, UK 28/24,25, 30a & 29/21, 26a and France – Marge du Finistere
Going forward GTO is now seeking investment and or partners to work these assets and to grow the value of the company.