"Gather information as easily and cheaply as possible"
GRTgaz operates more than 32,000 km of pipelines and 27 compressor stations on its transmission system. Beyond the acquisition of essential data for the conduct of its operations, the network manager relies on research and innovation to deploy a " more flexible, more adaptable and less costly" instrumentation , particularly in terms of its use. and maintenance. Objective: to acquire and dispose of more data "without having to carry out very important investment programs", as Anne-Sophie Decaux, Technical Director of GRTGaz explains.
(Note: this article was published in the journal "Petroleum and Gas Information" No. 1846, January-February 2017).
Oil and Gas Information: What are the main measurement and instrumentation applications on the GRTgaz network?
Anne-Sophie Decaux: We mainly use three types of measures. First, those used to conduct and operate the network, including security related data. Then, the ones we pass on to our customers to enable them to better manage their consumption, such as metering data. And finally, those of a much more general nature, which allow us to have additional information on our activity, for example subnet counts. Of course, we do not have the same technical requirements for these three types of measures.
PGI: In terms of network operation and operation, what applications are we mainly using?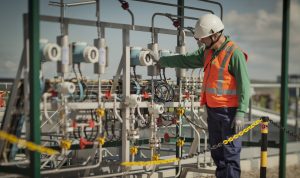 AS.D: The "basic" information needed to run a gas transmission network is first of all the pressure and temperature data, as well as the gas quality and volume data in order to be able to invoice the energy transported. But there is also a lot of other facility-specific information that is needed to operate the network remotely. These include driving and safety data, such as the positioning of a valve or the condition of any other component of the network. In terms of instrument types, we mainly use pressure transducers and temperature probes, gas volume meters, volume conversion devices and to check the quality of the gas, we have laboratories equipped with gas analyzers, mainly chromatographs. The data acquired by these measurement tools are fed back to our information system. GRTgaz operates 4,000 counting stations, 480 gas analyzers and 3,800 communication modems.
Transactional data is collected using devices certified by legal metrology. Our customers, especially industrialists and smart grids operators, are increasingly demanding real-time data, and we strive, year after year, to improve time steps. In addition, for many of our industrial customers, for example for the chemical industry using gas as raw material, gas quality is a very important factor for the reliability and quality of their process. Some of them would even like to be able to anticipate the PCS (high calorific value) of the gas that will be delivered to them. We think about how to give them satisfaction. Already today, GRTgaz's information system processes more than 30 million data daily.

PGI: What resources do you have to maintain the measuring instruments on the network?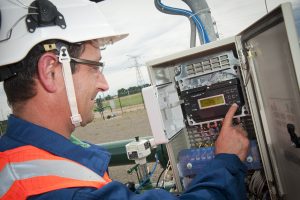 AS.D: Of the company's 3,000 employees, about half are dedicated to the operation and specialized maintenance of the network, to ensure routine maintenance and, among other things, that of measuring instruments. As for the maintenance of metrological metering systems, which use specific technologies, we have specialized teams. The latter, which represent about 150 people throughout the country, also deal with teletransmission and automation. Thus, the instruments of legal metrology are calibrated and validated in our laboratories in the strict framework of the regulation on the measuring instruments. To optimize the entire measurement system, we carry out material renewal campaigns.
This project, which was conducted over a decade, was essential because we had reached for these equipment a technological threshold. For a large part of our counting stations, we currently use the dial-up telecommunications service that the Orange operator will soon stop. We are therefore working on the implementation of a new transmission solution. This concerns data that serve both operations, security and counting, and therefore require high reliability and availability of transmission solutions. Taking into account these requirements and in particular the volume of data concerned, our next transmission solution will be based on an Internet Protocol (IP) network based primarily on xDSL (Digital Subscriber Line) solutions.
PGI: Is the use of wireless technologies developing on the GRTgaz network?

AS.D: We are currently using wireless technologies to transmit low-stakes data, so it does not require 100% reliability. This is, for example, physical network data such as temperature or pressure measurements that are not necessary to conduct the network but may be interesting, for example to make estimates on our network. However, with the near-end of the switched telephone network and the development of low-speed Sigfox or Lora networks, creating new opportunities for low-cost data transmission, wireless technologies will have to develop further on our network. network.

PGI: At the first edition of Challenges Open Innovation organized by GRTgaz in 2016, two innovative technical solutions in the field of measurement have been selected …
AS.D: Indeed, we are looking today for technical solutions that would allow us to collect information as easily as possible and at a lower cost. Our goal is to be able to multiply the type and the volume of data acquired in order to carry out more analyzes and studies to exploit the full potential of our network. These investigations are often expensive in the transport of gas. They sometimes require the installation of special equipment that must be connected to transmit information. This is why we are looking for instrumentation that is more flexible, more adaptable and less expensive, especially in terms of use and maintenance. This approach is part of the deployment of IoT (Internet of Things, ed).
This is why new technologies developed by start-ups are interesting. In concrete terms, we have identified two innovative and promising technologies as part of the call for projects of our Challenges Open Innovation in 2016. On the one hand, sensors that make use of surface acoustic wave technology previously developed mainly in the field of mobile telecommunications or for filters for television (1). On the other hand, ultra-energy-efficient sensors and communication modules that are compatible with Sigfox (2) radiofrequency communication networks.

PGI: You went to the last Consumer Electronic Show (CES), held at the beginning of January 2017 in Las Vegas. Have you discovered interesting applications in the field of measurement and instrumentation?
AS.D: Yes, I am thinking for example of a start-up that has developed a kind of pastille that is pasted on industrial equipment and that provides access to various information related to the use thereof. Just scan this marker to retrieve the data on a mobile device. It's an innovation that goes very well with today's technologies. One of the problems of instrumentation today is that there is less and less information visible from "outside", for example by means of a dial, while the technician who intervenes on a network equipment must be able to consult the data it needs very easily and quickly.
PGI: Do new gas applications, such as biomethane injection into the transport network, require the implementation of innovative instruments?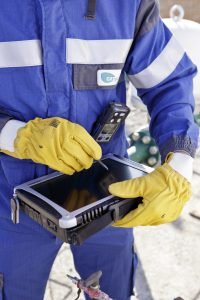 AS.D: In a way, but the goal is above all to save money for the industry to grow and share the benefits with our customers. One of the challenges of biomethane injection is to be able to connect a production site with as little investment as possible in order to allow the largest number of operators to access our transport network while guaranteeing the safety of the network and uses. For this, research and innovation in new technologies are particularly important to increase efficiency, simplicity of implementation and reduce user costs. At GRTgaz, we have teams working on these issues. But we also drive, with other manufacturers, different works such as testing optical fiber technologies to detect changes in the environment of our networks. Another very important topic today is that of predictive maintenance. We already use this type of solution for our compressors but we are trying to integrate them with other equipment on the network. All the data transmitted by the instrumentation is capitalized and the interventions are recorded in our system of CMMS (management of computer-assisted maintenance, editor's note). This allows us to perform various analyzes to try to adapt our maintenance closer to the needs of our operations.
(1) This application aims to remotely measure the temperature of the soil near the pipes. It was developed by SENSeOR , a specialist in SAW (Surface Acoustic Wave) wireless sensors, without batteries and without electronics.
(2) This application aims to multiply the points of pressure measurement on the GRTGaz network. It was developed by the consulting company SCEMS, which proposes a device integrating a smart probe connected to the Sigfox communication network, dedicated to connected objects.